Hazardous Substance Storage Cabinets
Storage N Stuff provide a great range of Hazardous Cabinets, including Flammable Storage Cabinets, COSHH Cabinets, Acid Cabinets and Pesticide Cabinets.
The cabinets come in a wide range of sizes, door configurations and capacities. Reinforced doors prevent the cabinets from distorting and come fitted with secure two point lockable L handles with two keys.
Hazardous Cabinets comply with HSG51 – The Health and Safety Executives Guidelines For The Storage of Flammable Liquids and DSEAR ACoP L136  Paragraphs 94-96 – Dangerous Substance & Explosive Atmosphere Regulations 2002.
More About Our Hazardous Substance Storage Cabinets
At Storage N Stuff, we've worked hard to become the leading supplier of Hazardous Cabinets and industrial storage equipment. Firstly, we care about our customers. Secondly, we only sell quality made products. Thirdly, and most importantly, we enjoy making our customers happy.
After particular Hazardous Storage Cabinets? Call our sales team who will gladly assist and if they don't have it, they will source it for you.
We also offer FREE delivery to mainland UK addresses — just another reason to choose your storage items from Storage N Stuff! Call our team today on 0333 202 5959 and we'll help you choose the right items.
---
Impregnable and Quality Assured Hazardous Storage Cabinets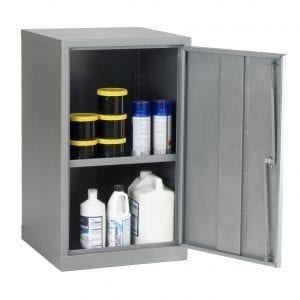 You would never get into a car that had no airbags or seat belts, or buy a house that had no locks on its doors or smoke alarms fitted, so why would you store hazardous goods and waste in bins and cupboards that had no safety features, either? It's simple; you wouldn't, which is why you have come to us for the finest quality hazardous storage cabinets available anywhere.
Here at Storage N Stuff, we take great pride in the collection of substance cabinets for goods, materials and waste that we offer. These are fit for use in stores, laboratories and warehouses right across the country, and are suitable for holding anything from acids, alkalis and other chemicals (such as pesticides) to flammable substances and hazardous waste.
If you are in need of these cabinets and storage bins for use in your industry, get in touch with us right away and we can arrange to have them delivered to you as soon as possible.
COSHH Storage
Storage cabinets that are designed to hold hazardous materials are also required to comply with the rules set out by the Control of Substances Hazardous to Health (COSHH) Regulations 2002. As such, you can rest assured that each of our available products are designed and built to these standards, so they can keep and contain any dangerous substances that you plan on using for as long as you need them locked away.
You should also be sure that your hazardous storage is following these steps:
Hazardous storage must be appropriately signed
Hazardous storage must have a controlled method of entry
Hazardous storage must ensure that certain chemicals are stored separately
Everything we sell complies with these regulations, so you know you will be receiving industry-standard products to protect yourself and your workers when you choose to buy from us.
What We Offer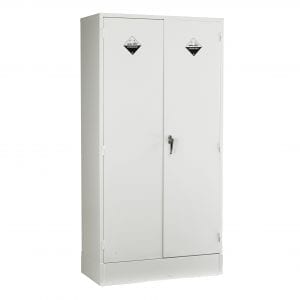 We have a fantastic range of Hazardous Storage Cabinets available for storing even the most dangerous of materials, whether you need chemical storage cabinets for acids and alkalis of all kinds, or hazardous cupboards that offer a hardwearing design and fire resistance as two of its most prominent features.
We are proud to be able to present these hazardous substance cabinets as part of our available selection:
Acid Cabinets
COSHH Cabinets
Flammable Storage Cabinets
Pesticide Cabinets
All of our cabinets for hazardous substance storage come in either bright yellow to display as a warning sign or industrial grey. They are also available in a variety of sizes, door configurations, and capacities, alongside a reinforced structure that is guaranteed to keep any goods or materials inside as safe and sound as possible. The sturdy, imperishable doors, in particular, prevent the cabinets from distorting and are fitted with two-point lockable L handles, with two keys to offer maximum security.
Everything we sell is also manufactured to comply with HSG51 ‒ the Health and Safety Executives Guidelines for the Storage of Flammable Liquids, and DSEAR ACoP L136 Paragraphs 94-96, otherwise known as the Dangerous Substance and Explosive Atmosphere Regulations 2002.
Contact Us for all Flammable Substance and Chemical Storage
We have worked hard to become the leading supplier of hazardous storage cabinets and industrial storage equipment on today's market, and we will do everything we can to get you the durable, reliable hazardous cabinets that will protect you from any dangerous substances you may be working with.
We care about our customers and we want you to be as safe from hazards to health as you can be, whether you are working with flammable liquids, acids, or another hazardous substance found in anything from pesticides to abrasives. This is why we aim to provide you with the best in secure storage, keeping any and all flammable, acidic, or otherwise dangerous materials from causing harm where they shouldn't.
If you are in need of any particular hazardous storage cabinet, whether that's COSHH cupboards, bins for flammable liquids or cabinets for acid or chemical waste, then we have the range for you. Call us today and our sales team will be glad to assist you with making a purchase. If we don't have what you're looking for, we will also be happy to source anything you need for you.