Barton TC Colour Storage Bins
When it comes to efficient small parts storage, Barton Storage is a name that stands out for its quality, reliability, and innovation. Barton TC Colour Storage Bins has revolutionised the way businesses manage and organise their small components, making them an essential tool in various industries.
Barton Storage bins are engineered to withstand the rigours of industrial and commercial use. Made from high-quality plastic materials, they are resistant to impact, chemicals, and extreme temperatures, ensuring a long lifespan even in the toughest environments.
Barton plastic storage bins come in a range of sizes, allowing you to choose the perfect fit for your requirements. From tiny compartments for nuts and bolts to larger bins for tools or equipment, there's a Barton bin to accommodate every need. The bins are designed for easy stacking, maximising space efficiency in your storage area. This feature ensures that you can store more parts while maintaining a neat and orderly workspace. The open-front design of the plastic containers ensures that you can access stored items without hassle. This design encourages quick and easy retrieval of parts, improving productivity and minimising downtime.
Barton TC Colour Storage Bins are the epitome of small parts storage efficiency. These bins combine durability, versatility, and organisation to provide a comprehensive storage solution that meets the unique needs of various industries.
More About Our Barton TC Colour Storage Bins
Barton Plastic Bins for Efficient Colour Coded Storage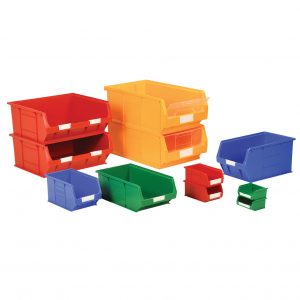 At Storage N Stuff, our selection of Barton plastic bins make the ideal storage solution for any kind of industrial workspace, whether you are working in a factory, garage, workshop or warehouse. You can even use them to carry out work or to store different sorts of items in your very own home, as the materials are non-toxic and suitable for holding anything from tools to food products. 
If you're in the market for a long-term storage solution for any kind of component, product or material, call or email our team today and one of our friendly members of staff will be able to help. They can give you any information you need about our wares, or start you on the process of ordering your very own Barton plastic bins, which will then be delivered as quickly and professionally as possible.
What We Offer
We can offer our customers a range of simple and effective small parts storage systems, in the form of our Barton plastic bins. The seven sizes we offer can provide you with all the storage you could possibly need for your workspace, while the heavy-duty plastic and reinforced bases, sides and stacking rims keep them durable and resistant to most industrial solvents.
Each container we have for sale is semi-open for easy access to any tools, parts or equipment you need at hand, and our range of four different colours and space for labels provide the most straightforward methods of identification. 
Barton TC Storage Labels
You will find that our supply of paper Barton TC Storage Labels make for the ideal method of organising and classifying everything you need stored in your new bins. Made from paper and supplied in white, they are easy to write on and will be easy to read from. 
They also come in three different sizes, so you will always be able to fit exactly what you need on them. Imagine trying to fit the names of all your work projects' smallest parts and components onto labels that only came in one size, otherwise; you would never be able to read and find what you were looking for, or organise your workspace to maximum efficiency! Luckily, our range of sizes avoids this problem entirely.
Practical and Effective Storage Solutions
At Storage N Stuff, we take great pride in our work and in our reputation as one of the leading suppliers of Barton plastic bins and other industrial supplies in the UK. That is why we aim to offer you the absolute best in terms of easy access and storage, with these semi-open, easily stacked storage systems.
If you have been looking for the perfect way to organise your industrial workspace, contact our team today and we can discuss our range of Barton bins with you. We're more than sure that we will have something in our range to suit your needs. Whether you are looking for simple but useful tool storage in a factory and need a semi-open fronted bin in order to grab things quickly, or are in the market for a multipurpose garage bin to store a variety of small parts and components, we're certain that we have the storage bins that can help.
Get in touch with us and one of our trained and qualified team members will be able to assist you in making a purchase. If it turns out we don't have what you need, for any reason at all, then they will also be more than happy to help get it sourced for you.