Shelving
Industrial shelving units are one of the most efficient ways of storing your goods safely and work in a variety of different industries, from retail stock rooms to large warehouses. Not only can they ensure all your stock is kept in the right place; it's also important to get the right types to stay within the lines of health and safety regulations.<
More About Our Shelving
Industrial Shelving Units from Storage N Stuff — the UK's Experts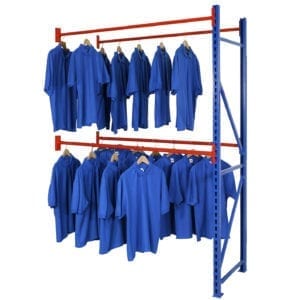 Storage N Stuff is one of the UK's trusted B2B suppliers of industrial shelving. Our main aim is to provide businesses with industrial shelving solutions tailored to their needs to ensure they can run their operations efficiently.
Industrial shelving units are one of the most efficient ways of storing your goods safely and work in a variety of different industries, from retail stock rooms to large warehouses. Not only can they ensure all your stock is kept in the right place but also within the lines of health and safety regulations.
Take a look below at our shelving units and make your purchase today
WHY STORAGE N STUFF?
Our team has over 20 years experience in the manufacturing and marketing business and are dedicated to offering customs the best shelving prices in the UK. We're a family-run business who understands the importance of excellent customer service, which is why we're always on-hand to provide advice and support for any items you purchased with Storage N Stuff.
SHELVING UNITS FROM STORAGE AND STUFF
We boast a wide selection of industrial shelving to suit any commercial requirement. Whether you're looking for extra storage for boxes and packages in your warehouse, or shelving units for quick access to tools, manuals, and everyday equipment, we have what you need.
What our industrial shelving units can be used for:
Our shelving units are designed to be strong, aesthetic, and versatile to suit any commercial and industrial environment. Here are just a few uses for our shelving units:
Stationery
Clothing
Tools
Industrial or janitorial supplies
Forms and documents
Individual belongings or personal possessions
Below is a brief breakdown of each shelving unit we offer
Plastic shelving – fast and effective shelving solution for all commercial and industrial areas. Robots, long-lasting, and bolt-free, these plastic shelves are easy to assemble and take apart.
Longspan shelving – known for its versatility and adaptability within any commercial or industrial environment. It's able to store any item seamlessly, whether it's machine tools, paperwork, storage boxes and it can even serve as a clothes rail.
Archive storage shelving – as the name suggests, archive storage shelving is perfect for storing boxes of documents and archives to ensure safe and accessible storage.
Metal shelving – great for use in all environments, our metal shelving units are heavy duty and built to withstand high traffic areas as well as offering accessible storage solutions. Our metal shelves are more chrome chipboard, MDF and steel, and you can choose from a range of colours to suit your work environment.
Chrome wire shelving – versatile and ideal for any size workspace. Chrome wire shelving's strength lies in its excellent airflow and light penetration qualities, they're also one of our cheapest shelving unit options with prices starting from just £88.
Wall-mounted shelving – easy to construct and can be changed and adapted to suit any shelving need. We offer a range of shelving sizes and options to ensure your storage needs are met. They're also stylish and designed to fit with any industrial or commercial workspace.
Library shelving – much like a traditional library shelf, this storage rack is made up of closed shelving bays, free-standing systems, wall-mounted units as well as library trolleys. Our library storage units are very easy to assemble and look great in any industrial environment.
Catering and hygiene shelving – simple, reliable and affordable. These heavy-duty storage units are ideal for all working environments due to their fantastic aeration design and easy stainless steel structure. Our Eko Fit Shelving unit is the most flexible option we offer, with lengths up to 2m.
Shelving accessories – complete your shelving storage units with labels to ensure everything remains organised. We offer both stickers and magnetic label and ticket holders (for shelving units that regularly swap-out items). All are designed with high visibility in mind and we also sell floor markers.
PURCHASE YOUR INDUSTRIAL SHELVING UNIT TODAY
At Storage N Stuff, we stock a wide range of durable, hard-wearing and cost-effective shelving types suitable for your specific industry. However, we've purposely avoided stocking every type of shelving on the market, instead of focusing on stocking the products that are the best in their field. Not only does this mean you get the shelving that's right for the job, but we also reduce the price you pay thanks to lower overheads.
If you need help, or you're unsure what type of shelving to choose for your business, get in touch with our team and we'll be able to advise. Alternatively, we can visit your location and undertake a FREE, no-obligation site survey to help you decide. You can contact us now for more information.